> W11F 3 Rollers Mechanical Rolling Machine三辊非对称机械卷板机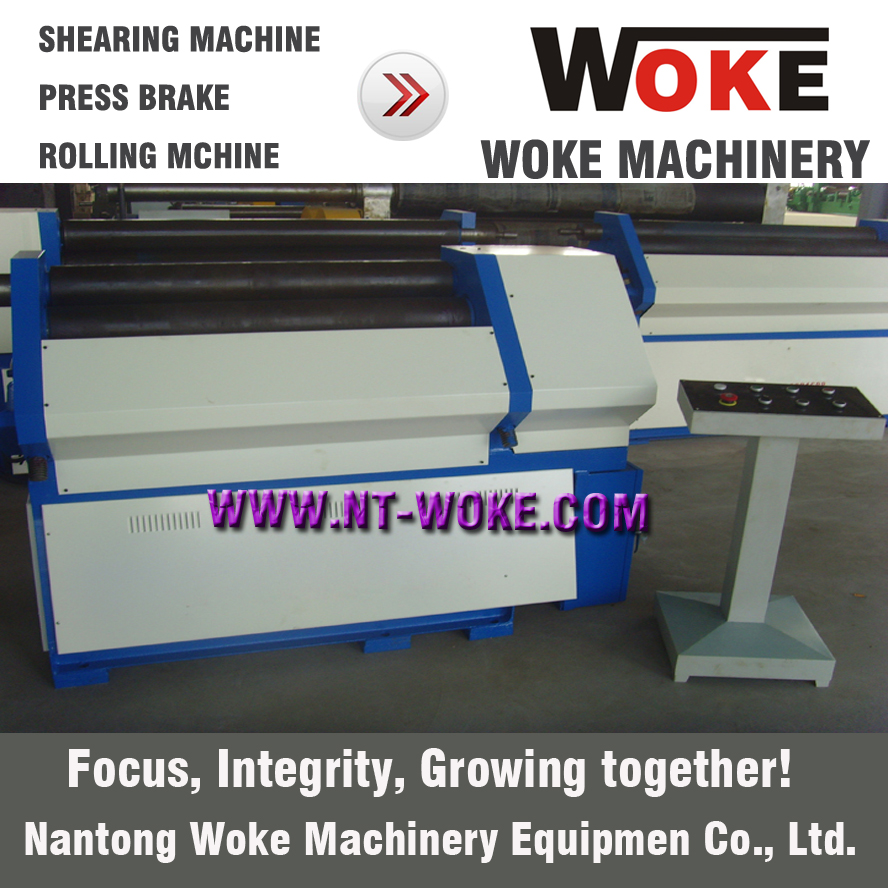 W11F Three Rollers Mechanical Plate Rolling Machine
rolling machine
cnc rolling machine
W11S Three rollers Hydraulic Plate Rolling Machine
W11F Three Rollers Mechanical Plate Rolling Machine
Product description: High positioning Long service life Competitive price W11F Three Rollers Mechanical Plate Rolling Machine
Product introduction
W11F Three Rollers Mechanical Plate Rolling Machine
Rolling Machine Performance
The machine is asymmetric 3-roll mechanical and asymmetric type. It is easy for operation and maintenance.
Upper roll is driven by motor by means of reducer. And lower roll is moved vertically while the side roll is moved upper and down at an angle. It is capable of round rolling and pre-bending.
With beading rolls for groove making.
Rolling Machine Parameters
Model

Max.

thickness

mm

Max. width

mm

Workpiece

Min.Dia.

mm

Diamete of

top shaft

mm

Diamete of

botiomshaft

mm

Bottom

Roller Dia.

mm

Main motor







W11F-1*1000

1

1000

130

95

95

95

0.75

W11F-1*1300

1

1300

135

100

100

100

1.1

W11F-1*1500

1

1500

145

105

105

105

1.5

W11F-1*2000

1

2000

2000

125

125

125

2.2

W11F- 2*1000

2

1000

135

110

110

110

2.2

W11F- 2*1500

2

1500

155

130

130

130

130

W11F- 2*2000

2

2000

165

140

140

140

2.2

W11F- 3*1000

3

1000

140

120

120

120

2.2

W11F- 3*1500

3

1500

150

135

135

135

2.5

W11F- 3*2000

3

2000

180

145

145

145

2.2

W11F- 3*2500

3

2500

200

150

150

150

3

W11F- 4*1000

4

1000

160

130

130

130

3

W11F- 4*1500

4

1500

180

135

135

135

3

W11F- 4*2000

4

2000

220

140

140

140

3

W11F- 4*2500

4

2500

280

150

150

150

4

W11F- 5*1000

5

1000

180

140

140

140

3

W11F- 5*1500

5

1500

220

150

150

150

4

W11F- 5*2000

5

2000

280

160

160

160

5.5

W11F- 6*1000

6

1000

300

145

145

145

4

W11F- 6*1500

6

1500

350

150

150

150

4

W11F- 6*2000

6

2000

400

160

160

160

5.5

W11F- 6*2500

6

2500

450

170

170

170

7.5
Rolling Machine View